Sun May 18th, 2015 10:00 pm Manhattan, NYC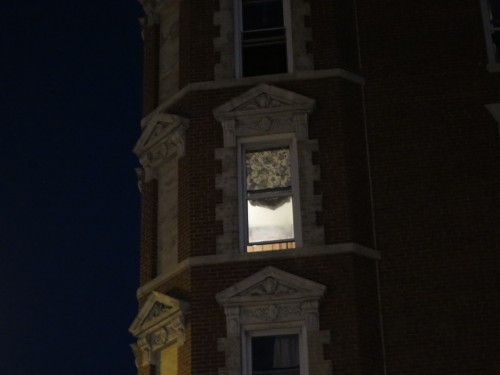 At this special class with Shri Mahayogi on May 10th,
Master offers the following words:
THE WORDS OF OUR GURUDEV:
"The purpose of Yoga is to realize the Truth.
Where does Truth exist?
It exists within the depths of the heart.
In actuality, Truth exists everywhere.
However, in the physical body,
this is the place where it is easiest to grasp—
it is considered to be the seat or the dwelling of the true Self.
Neither the mind nor the ego is the true Self.
The mind is always seen by the Pure Consciousness.
Only the Pure Consciousness knows the mind.
People are born out of karma, and act based on their karma in this world.
But that is not the true way of living.
The true way of living is to live based on the Truth,
which means to realize the true Self.
In doing so,
the mind and the body become the tools or the servants of the true Master.
The Truth, first, must be heard.
Then it must be pondered upon deeply.
And then it must be meditated upon.
By doing so,
the Truth will be realized.
I will see you next week."
  —Satguru Shri Mahayogi Paramahansa

Jai Satguru Shri Mahayogi Paramahansa Ki Jai!!!
"Scopul invatarurii Yoga este de a cunoaste adevarul.
Unde se afla Adevarul?
Acesta exista in adancul inimii.
In realitate, adevarul exista peste tot.
Totusi, in corpul fizic,
acesta este locul unde este cel mai usor de a fi dobandit–
este considerat ca fiind locul unde salasluieste Sinele adevarat.
Nici mintea, nici egoul nu este Sinele adevarat.
Mintea este vazuta intotdeauna de catre Constiinta Pura.
Numai Constiinta Pura cunoaste mintea.
Oamenii se nasc din cauza karmei,
si actioneaza in lumea asta in functie de karma lor.
Dar acesta nu este adevaratul mod de viata.
Adevaratul mod de viata este in a trai bazat pe Adevar,
ceea ce implica cunoasterea Sinelui adevarat.
In acest mod,
mintea si corpul devin uneltele sau servitorii adevaratului Stapan.
Mai intai, Adevarul trebuie auzit.
Dupa care trebuie gandit profund asupra Lui.
Si dupa care, trebuie meditat asupra Lui.
Facand asta,
Adevarul va fi dobandit.
Am sa va vad saptamana viitoare."
—Satguru Shri Mahayogi Paramahansa
"瑜伽的目的,在於實現真實。
真實存在於何方?它就在心中深處。
事實上真實存在於每個地方,
但是就身體而言,這裡(指胸口)是最容易掌握的,
而被認為是真我的坐落之處。
心智或小我,並不是真正的自己。
心智一直被純粹的意識觀看著。
只有純粹的意識了解心智。
人之出生始於因果,也依循著因果而為一切行為。
那不是真正的生活方式。
依循真實而活才是真正的生活方式,也就是實現真我。
如此一來,心智和身體就變成真正的主人的道具或是僕佣。
首先,必須去聆聽真實,然後去思考和冥想真實。
這樣做的話,就能實現真實。
那麼我們下週見"
—真理上師 聖 大瑜伽士 至尊天鵞
「ヨーガの目的は、真実を実現することです。
真実はどこにあるかと言えば、胸の奥です。
本当はどこにでもあるのですけれど、
しかしこの身体においてはここが最も容易に掴みやすい、
それは本当の自己の座と言われている場所です。
心、あるいはエゴは本当の自分ではありません。
心は常に純粋な意識によって見られています。
純粋な意識だけが心を知っています。
人はカルマというものによって生まれ、この世界に活動をしています。
それは本当の生き方ではない。
真実に基づいて生きることが本当の生き方であり、
それは本当の自己を実現すること。
そうすると心と身体は本当の主人の道具、あるいは召使いとなります。
真実はまず、聞かされ、そして考えられ、瞑想されなくてはなりません。
そうすれば、真実が実現されます。
では来週」
—サットグル・シュリー・マハーヨーギー・パラマハンサ
Humbly, we bow to you, our Beloved Master…