Sun May 28th, 2017 00:00 pm, NYC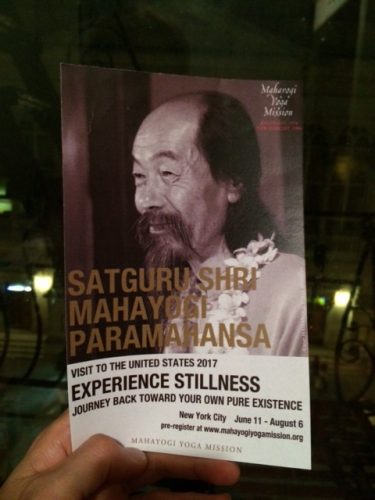 ANNOUNCEMENT:
Satguru Shri Mahayogi Paramahansa visits New York!
June – August 2017
It is with immense joy in our hearts that
we welcome back
our Beloved Satguru Shri Mahayogi Paramahansa to New York! 
Since his first visit to New York in 1996, Shri Mahayogi has bestowed upon seekers coming from near and far the wisdom and true essence of Yoga.  Established in the state of Awakening since the age of 8, Shri Mahayogi guides seekers from all backgrounds and faiths from his own direct experience of the Pure and Eternal Existence within one and all. How rare and unique it is to encounter a Master who has perfected and completed the ultimate state of Yoga, the state of supreme Silence!
Shri Mahayogi teaches from his own experience all four branches of Yoga: raja yoga, jnana yoga, bhakti yoga, and karma yoga, as well as the teachings of the Buddha, which, according to what he has directly perceived through his own meditation, are no different from the teachings of Yoga.
In the Master's class, the seeker practices highly focused asana & meditation.  The asana that he teaches comes directly from his own spontaneous practice, without any external instruction, that continued for 16 years beginning at the age of 14, and is aimed at preparing seekers to experience for themselves the true and ultimate state of Yoga—the complete restraint of the mind and the true Freedom that comes as a result. It is exceptionally rare for a seeker to have the opportunity to practice in the serene and blessed energy that radiates from an Enlightened Master, and to receive the direct guidance that comes through words, touch or, most importantly, silence.
Shri Mahayogi also offers Satsangha for seekers who would like to practice toward Awakening into the true Self. This is a very special opportunity for seekers to ask questions in regards to their practice or their journey towards experiencing the true Self. From the physical to the most subtle inner workings of the mind, Shri Mahayogi guides each seeker according to his or her conditions at any given time and in any given situation.
Pre-register
for programs
with Satguru Shri Mahayogi Paramahansa.
Space is limited!