Monday Oct 21, 2019 NYC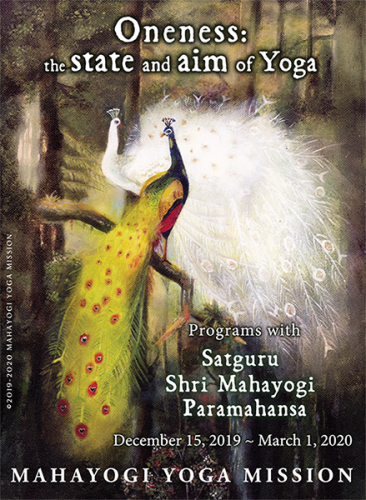 Announcement:
Satguru Shri Mahayogi Paramahansa to Visit New York this Winter!
We are delighted to announce that Satguru Shri Mahayogi Paramahansa will return to New York December 2019 to March 2020!
December, the darkest of months, also marks the time when new light springs forth from that very darkness. It is an auspicious time of new beginnings and we are filled with gratitude to have the opportunity to invite the great light of the Satguru (the ultimate dispeller of darkness) firmly into our hearts and into our presence, to guide us along the path of Yoga, the path towards Oneness.
Please mark your calendars, spread the good news and treasure each upcoming moment to experience and learn from Shri Mahayogi.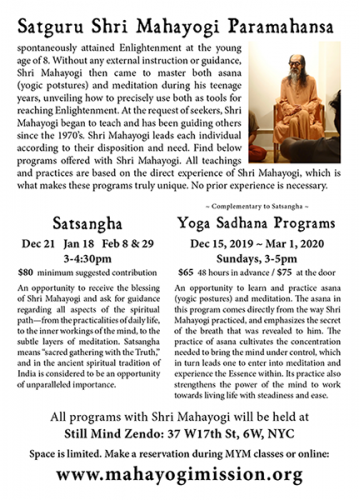 • Register for Satsangha with Shri Mahayogi
Four Saturdays, 3:00-4:30pm
Dec 21, 2019
Jan 18, 2020
Feb 8 & 29
https://forms.gle/yUwgG2agwpZ9oWqK6
•Register for Yoga Sadhana Practice Programs
Sundays 3-5pm
Dec 15, 2019 – Mar 1, 2020
https://mym2019_2020.eventbrite.com
Advanced reservation for all programs is required by:
• Registering online from the above links
• Contacting info@mahayogiyogamission.org
-or-
• Registering during MYM regular classes
For all programs with Shri Mahayogi, please arrive 30 minutes early.