Thursday Nov 26, 2020 NYC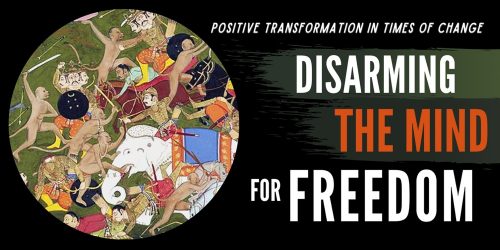 Part 2  Friday Dec. 4th, 7-8pm
Part 1 Friday Nov. 20th, 7-8pm
Mahayogi Yoga Mission presents Part 2 of its online program "Disarming the Mind for Freedom", from its series Positive Transformation in Times of Change. Part 1 was held on Nov. 20th (see the report below for more details).
Program Description:
With our eyes fixed on the external world, internal observation of the mind is more challenging than ever before. Glimpse just beyond the realm of our immediate perception, to the battle waging constantly within our own minds that keeps us in an un-free state, and seek together with us to disarm its factions in a step towards Freedom.
All are welcome to attend. No prior experience or knowledge of Yoga is necessary. Attendance in Part 1 is not required to participate in Part 2.
SPEAKERS: Karuna and Sadhya
Register HERE.

* Tickets will be available for purchase for up to 24 hours in advance.
* Please note that using Zoom is required for attending this program.
* You will be emailed a Zoom link on the day of the program.
* We will be happy to provide technical assistance to anyone who may need it.
* We will open the Zoom space at 6:15 for attendees to enter and test that zoom is working properly.
* We highly encourage you to connect early to troubleshoot any unexpected issues and then return just before 7pm.
* On the day of the event, we will post a contact number here for any technical issues that may arise.
Please reach out to info@mahayogiyogamission.org for inquiries about this event.
*
Report: Disarming the Mind for Freedom Part 1