Sun Nov 23rd, 2014 00:00am Manhattan, NYC
GURU JAYANTI—HOLY BIRTHDAY OF THE GURU: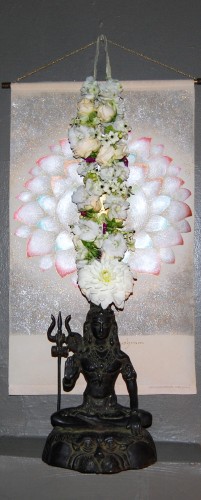 HOLY JAYANTI
DEDICATION:

Our Beloved, Revered Master
SATGURU SHRI MAHAYOGI PARAMAHANSA,
We are filled with joy and gratitude as we are able to
celebrate your Holy Jayanti with you and with everyone
again this year. On this most auspicious of days, we renew
our vow to live every moment in devotion to you,
to serve you with purity of heart and to Awaken to
True Existence. Through your boundless grace we are
blessed to have the opportunity to witness and
experience the embodiment of Truth.
The purity of your existence shines into the depths
of our being, bringing forth the conviction
that the same Truth is our very essence.
Jai! Satguru Shri Mahayogi Paramahansa Ki Jai!
HYMN:

TO SATGURU SHRI MAHAYOGI PARAMAHANSA
The eternal Truth that dwells in all human beings;
That you awaken with love,
out of overflowing compassion,
You ignite the faith in one's own Atman,
which is beyond death,
For the Bhakta of the Guru perceive in his very body
the imperishable Brahman manifested in a tangible form,
And because of the Paramahansa's immortal nectar words
they feel Enlightenment manifested in a tangible form.
Salutation to you, the great lord, the great saint;
Salutation to you, Mahayogi, Om.
 Hymn Lyrics by Sanatana
*  *  *
SONG OFFERING TO THE MASTER
—from a disciple in New York:
"Seeing"
* Adapted from text in Raja Yoga by Swami Vivekananda
Composed and performed by Shantipada
(Click on the left edge of the sound player to start the song.)