Sun May 31th, 2015 10:00 pm Manhattan, NYC
After having been blessed by the presence of our Master, Satguru Shri Mahayogi Paramahansa, for the past three months, disciples and attendees came together this Sunday one last time to receive his teachings and guidance before his return to Kyoto, Japan. At the end of the Asana and Meditation class, Aniruddha spoke on behalf of the disciples in NY to express the immense gratitude we have for our beloved Master.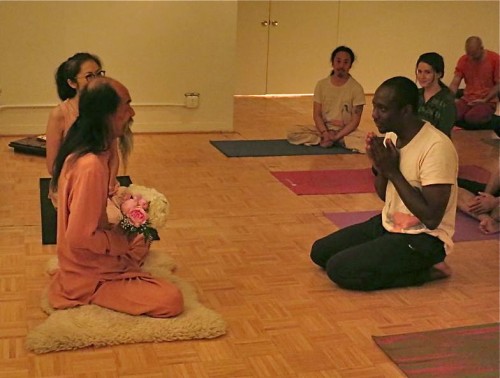 MESSAGE TO THE MASTER:
"On behalf of all the brothers and sisters in New York,
I would like to express to you our gratitude
and say thank you for inspiring us these past three months
with your teachings, guidance and wisdom.
It is a great honor and privilege for us to serve both you and the mission.
Your physical presence always brings us so much joy
as well as a renewed commitment to deepen our practice
and realization to prove,
Shri Mahayogi,
that your teachings are indeed the Truth.
In you, Shri Mahayogi,
our Guru,
is the Living example of True existence itself embodied in physical form.
It is through you
that we have come to know the true Self.
It is through you
that we began to feel its essence.
And it will be through you, our Guru,
that we will experience the full essence of Atman.
From all of us,
thank you Satguru Shri Mahayogi Paramahansa.
With the greatest love we wish you a safe trip home,
but truly we are also anticipating the news of your return
so that we can be in your presence once more.
Thank you very much from the bottom of our heart!"
大師への献辞:
「ニューヨークのすべての兄弟姉妹弟子を代表して、
貴方に感謝を捧げ、
教えと導きと叡知によって、
この3カ月間私たちをインスパイアしてくださったことに対し、
お礼を申し上げたいと思います。
貴方とミッションに奉仕できることは、
私たちにとって素晴らしい栄誉であり特典です。
貴方が肉体をもって目の前におられることで、
私たちはいつも大きな歓喜を与えられます。
そしてシュリー・マハーヨーギー、
貴方の教えがほかではない真実であることを身をもって証明するために、
実践と悟りを深めようと誓いを新たにします。
私たちのグル、 シュリー・マハーヨーギー、
貴方の中には真実在そのものの生きた見本が、
肉体という形をとって具体的に表れています。
まさに貴方を通して、
私たちは真実の自己の存在を知ることになり、
貴方を通してその本質を感じるようになりました。
そして私たちのグル、
まさしく貴方を通して、
アートマンの本質をあますところなく体得するでしょう。
私たち全員から、
サットグル・シュリー・マハーヨーギー・パラマハンサ、
貴方に感謝いたします。
最大の愛をもって旅のご無事をお祈りしています。
それでも本当は、 再度そばにいられるように、
お戻りになる知らせも待ち望んでいます。
心の底からありがとうございます!」
                       ニューヨークの弟子を代表して、
アニルッダ
***
Shri Mahayogi, our Beloved,
Until the moment when we may rejoice in Your coming again,
May our hearts and minds rest solely in You.
Jai Satguru Shri Mahayogi Paramahansa Ki, Jai!!!!!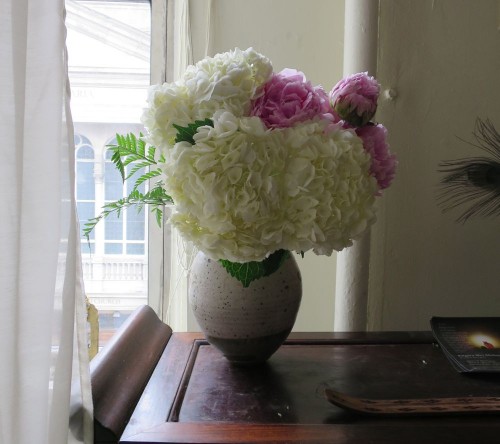 The offering of the flowers to Shri Mahayogi
was then arranged by the Master in the vase that night.
Om Tat Sat, Om!