Wed April 27th, 2016 5:59am, NYC
EXPERIENCE:
NY Gurubai's Visit to Japan, Winter 2016
and Its Synchronization with Pranavadipa Vol. 17:

Part 4: THE HALF WAY POINT—TAKING ACTION
Day 5: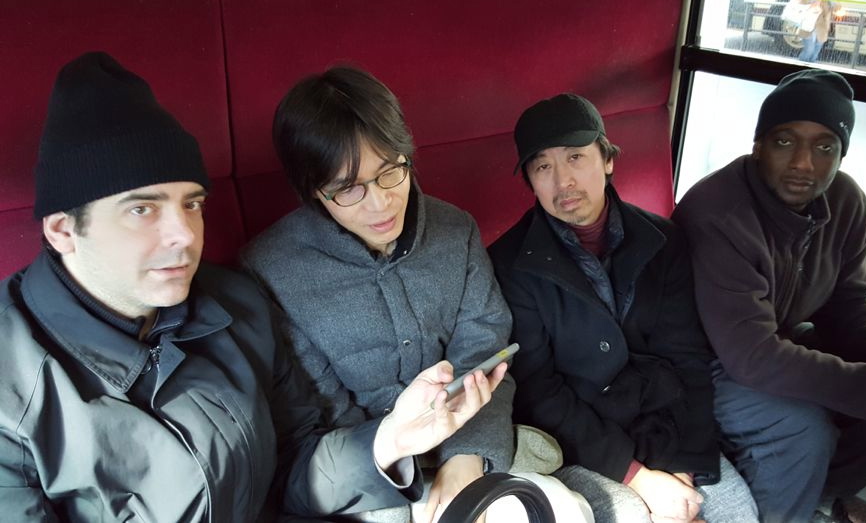 Bus Ride—On the way to the Kyoto National Museum
A bit tired here as the days are intense, going from the early morning to late in the evening.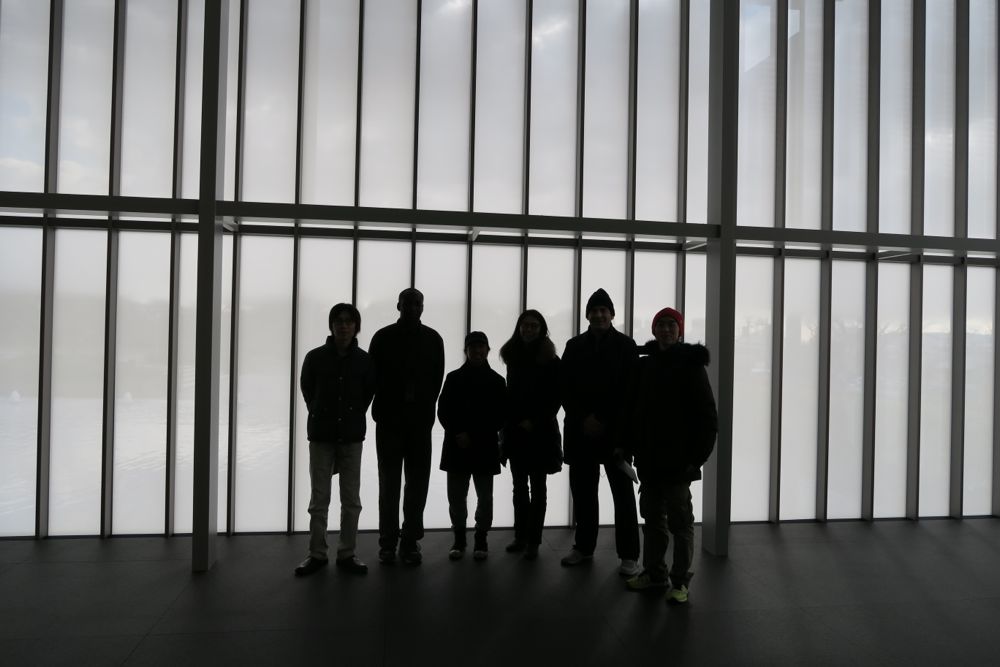 Inside the Kyoto National Museum
We are a part of the Sumi-E (Blk Ink painting.)
On Tuesday morning, we went to see an exhibit of Japanese swords at the Kyoto National Museum.
 While Kripalu guided the NY gurubhai through this exhibit, Anandamali and Yohei reviewed their stay in Japan so far to see how to best support them so that they could get the most out of it. Both of them felt greatly concerned that even though a great deal of inspiration had been shared over the course of their various discussions, if it only remained at the level of discussion and was not applied in daily life, there would be no real transformation that would come to the NY gurubhai. It would be a great loss if the trip became simply a good memory, producing little to no effect after their return to the wilds of New York City. Shri Mahayogi graciously accepted to hold satsangha for them the next day, and there would be an Asana & Meditation class that night, but other than that there would be no MYM classes or activities on Thursday or Friday, so Anandamali requested that Yohei find opportunities in which they would need to take action and use the physical body. They had already heard so much from the gurubhai in Kyoto, so the time had come for them to be proactive, no more being passive! Yohei had some ideas and immediately started to call his friends. The schedule for Thursday and Friday was arranged then.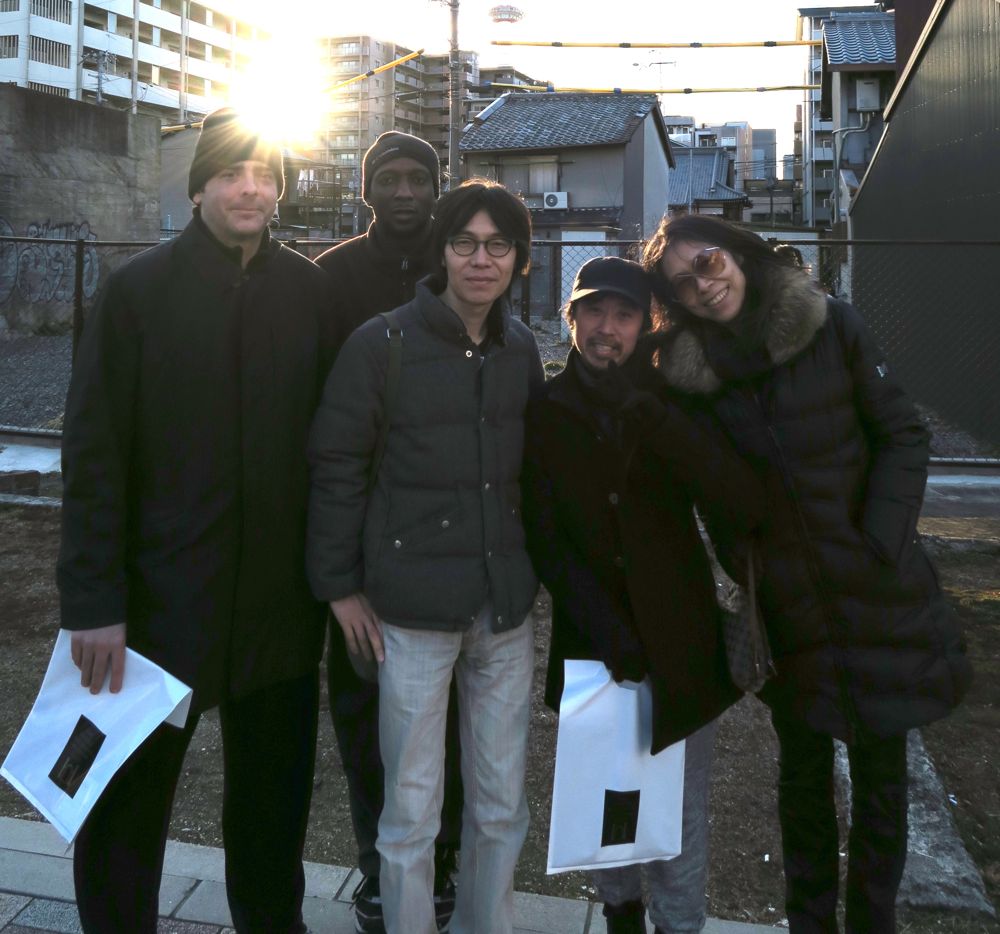 Waiting for the bus to go to the center for class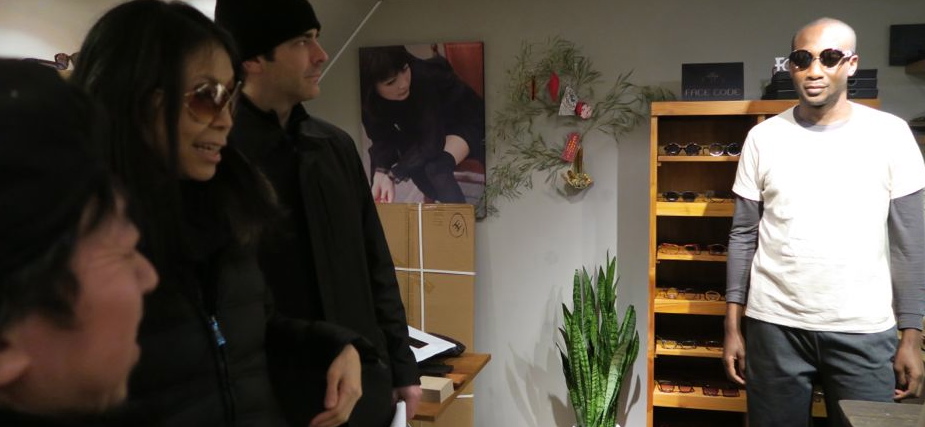 We had a little time to have some fun before the class!
Is Aniruddha's external transformation a reflection of his internal transformation??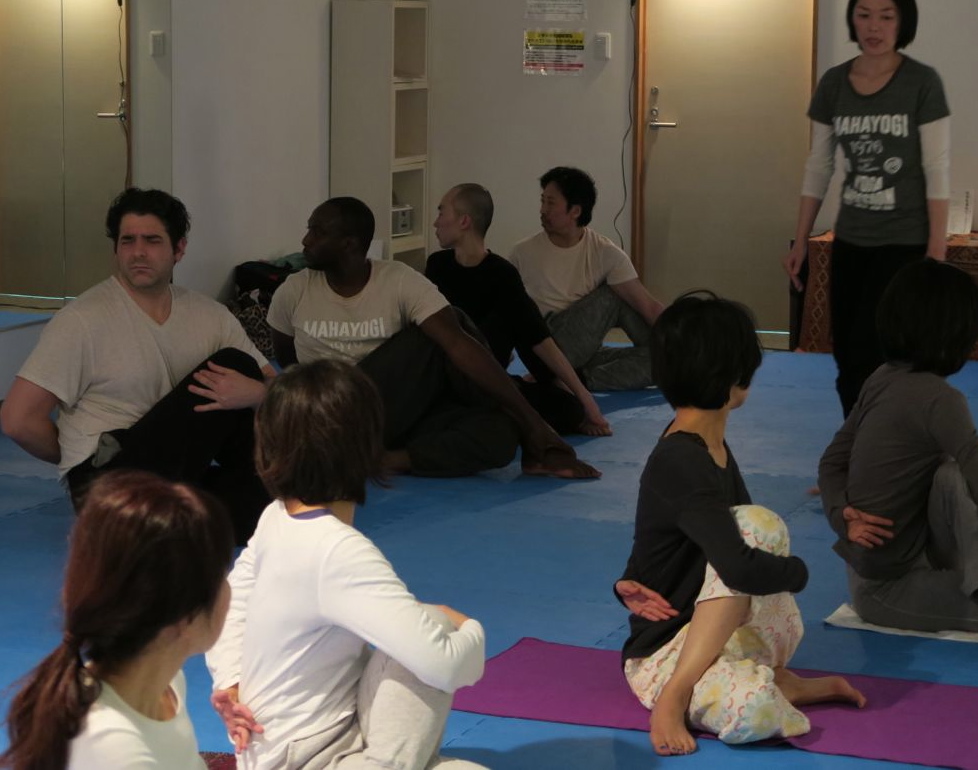 Asana & Meditation class in the center of Kyoto City, led by Madhri and Satya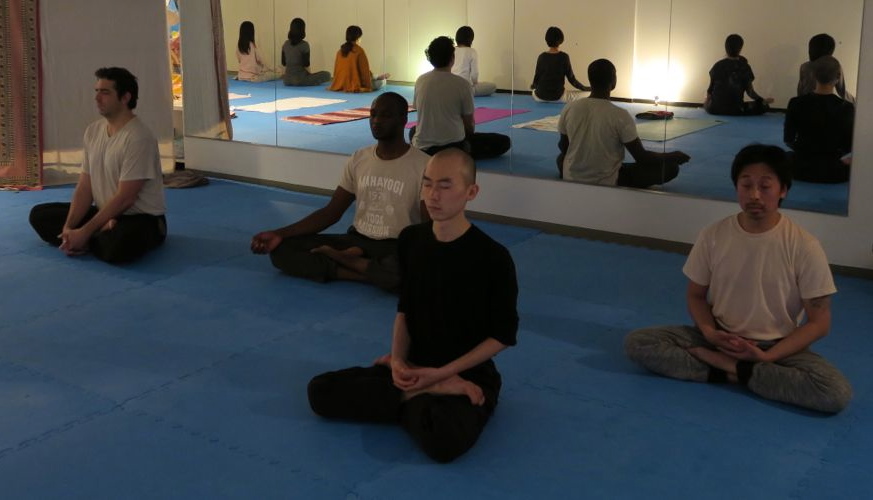 *
After going back to Shanti Kutira, Yohei and Aniruddha, who is the senior disciple of the three brothers (gurubhai) from New York, came to Yoga Vihara late at night. Anandamali called a meeting to discuss further details about the rest of the trip in Kyoto. We were also concerned that Ryan did not seem very cheerful, somewhat heavy, and somehow it was difficult to get sense of how he was doing. So we decided to ask him the next day what motivated him to make this visit and what it was that he would like to accomplish during this time.
***
Day 6:

"Anandamali-san, something good is happening here! We have been talking together for some time. I am not sure what the details are of what they are saying because everything is in English, but it seems that Ryan has started to open himself up, and they are all crying. I feel a strong bond forming among the New York gurubhai!!!" As Anandamali arrived at Shanti Kutira after lunchtime, Yohei opened the entrance door and immediately announced this. Indeed, they were all sitting in that multi-purpose room talking, and Ryan seemed completely renewed. He looked so much lighter, cheerful and natural. He spoke about his life, and it seemed that something had been released from him. It was very beautiful to see that, and it was so beautiful to see that they were all supporting each other's growth.
Ryan also mentioned that he started to wonder again if it would be a good idea to move to Kyoto so that he may be able to make better progress in an environment where he is constantly surrounded by strong practitioners and adhering to a scheduled life. (He actually thought about this before he visited Japan and sought advice from Anandamali, but decided not to do so because it would not be practical with the language barrier, and there would be no one who could translate for him during satsangha. Shri Mahayogi also mentioned that it would not be a realistic thing to do for Ryan's current situation or that of the MYM of Kyoto.) Yohei spoke to him about it too, saying that, "Although it may appear to be easier for your practice, and you might feel that it is helpful at the beginning, that would really only be for the beginning, because when it comes down to it, the bottom line is that you yourself must discipline yourself by yourself, voluntarily. And the situation would not be the way it is right now, where we are arranging and adjusting our schedules around what would be best for you. What you need to do right now is to go back to New York, get a job, and practice Yoga in those circumstances, no matter what. Shri Mahayogi always speaks about the significance of practicing and proving Yoga while maintaining a regular job in this current age, as opposed to how practitioners used to practice in seclusion in the past." Yohei said that he would like Ryan to support the sangha in NY by doing that. He said, "Vivekananda said that if he could get 10 people with passion, indomitable discipline and faith, he could change the world. I can see that you would be three out of these ten! When you return to NY, I would like you to take on that indomitable will."
Yohei gave a lot of detailed advice to Ryan, all of which he wrote in the article that was published in Paramahamsa Vol. 114, and its translation into English in Pranavadipa Vol. 17. It was so beautiful to see these brothers. Yohei spoke carefully, sincerely, respectfully and straightforwardly to Ryan, and Ryan accepted so sincerely and without any defensiveness everything Yohei pointed out and advised.
*
At 2PM, we were at the Ashrama for the satsangha that would be only with us and Taka. Perhaps it was because the NY brothers' visit to Kyoto was in its second half, and after having received so many blessings from Shri Mahayogi through his disciples, hearing so many explanations of the teachings and seeing actual example after example of what the real practices are, which might have amounted to more than what they could receive and process, along with the fact that it was now time for them to digest what they had learned and put it into action, there were not many questions asked of the Master. Instead, Ryan, for the very first time, opened up his heart to Shri Mahayogi and spoke very openly about his life. Shri Mahayogi just kept listening to Ryan with a tender smile. That day, Shri Mahayogi gave a spiritual prescription to one of Ryan's habits: stop consuming snacks and sweets. He then told us to leave the Ashrama and try to go to catch Sananda in Nagaokakyo City before the class that night and ask about the practice of discrimination if there were any further questions about it. This may be one of the ways that Shri Mahayogi is guiding both senior and junior disciples so that we can grow and mature at the same time. So then we bowed down with utmost gratitude to the Master and left the Ashrama, following his advice. The time we are able to spend with the Master was and always is so PRECIOUS, NO MATTER WHAT!!! HIS SMILE MAKES EVERY CELESTIAL BEING HAPPY AND BLISSFUL. WE LOVE YOU DEAREST SHRI MAHAYOGI, OUR MASTER!!! JAI, JAI, JAI !!!
Here is the photo taken of the NY gurubhai right after the satsangha at the Ashrama, before we left to go to the Asana and Meditation class.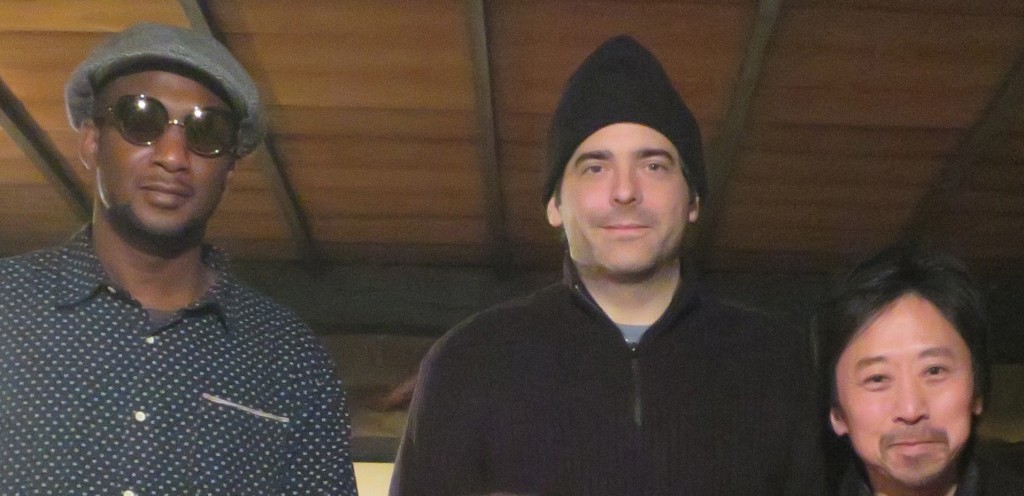 *
After we left the Ashrama, we bicycled to the train station and took the train to Nagaokakyo City, outside of Kyoto city, to take the Asana and Meditation class led by Sananda and Madhri. After helping to set up the classroom, as Shri Mahayogi had suggested, they started asking Sananda questions. Nandi had been told by Shri Mahayogi to deepen his meditation. So Nandi asked Sananda how he could deepen his meditation, because his mind is far too active. Sananda responded that he should try to make time to spend quietly, and practice mauna, spiritual silence.
During the class, Sananda checked Aniruddha and Nandi's asana carefully. And Madhri checked Ryan's. According to Aniruddha, it was the most intense class out of all the classes he experienced in Kyoto.
*
After the class, we had another opportunity to spend the time with Sananda, but it was not easy to find a café open after 10PM. Plus, with Taka and Kripalu we were 7, which made it very difficult to find seating. So Sananda and Kripalu ended up driving us to Kyoto City, to a café that was open 24 hours near the Ashrama.
This night was the first night that Ryan had an opportunity to ask Sananda questions, since the first night when Sananda visited Shanti Kutira, Ryan could not stay up because of jetlag and exhaustion. So Ryan asked Sananda many questions about discrimination. Ryan was very impressed with Sananda, who answered his questions very clearly, without any trouble or vacillation.
Aniruddha expressed his honest concern that there is a part of him that has not been able to put himself into practicing Yoga completely. Taka then responded through his experience and thoughts on this, mentioning that in the book "Pranava Sara" (The Gospel of Satguru Shri Mahayogi Paramahansa, published in 1999 in Japanese only), there is a part in which Shri Mahayogi advises that disciples live together in order to deepen their practice. Taka, without thinking too deeply about it, just decided to follow this advice. He then rented a house with Yohei, who was also looking for a gurubhai to live and share a house with. By living together with gurubhai, every single thing in daily life fully became fertile ground for practicing Yoga. Not only in regards to food, clothing and shelter, because many gurubhai traveling from far distances would often come and stay at their house during the weekend to attend the satsangha with Shri Mahayogi, they were blessed to have many opportunities to share the teachings of Yoga as a course of nature. Last year, Anandamali also stayed there for some time, as well as other gurubhai from New York and Taiwan who had longer stays. The blessing they have been receiving has at times been more than what they can receive, and at the same time, they have also been experiencing many lessons. He never imagined how it would unfold before he started living with a gurubhai, of course. What it has become is far more than what he could have imagined. From this experience, he understands that if we put Shri Mahayogi's advice into action, then blessings and challenges beyond our imagination will be bestowed upon us; and he feels that that is an exemplification of, "if you get closer toward God, even if it is only one step, God will come closer to you multiple times more than that." What's more, he feels that the same thing can be said to the NY gurubhai, because they came to Japan and got close by opening themselves up to the Guru, and therefore they have been experiencing far beyond what they could have imagined before coming to Japan. Taka concluded that the first thing they must do upon returning to New York is to put this all into actual practice without hesitation—and that is vital.
*
After 1 AM, Sananda drove them back to Shanti Kutira. Then Sananda, Anandamali and Kripalu had a late light dinner together. Sananda drove Anandamali back to Yoga Vihara, then returned all the way to his home in Nagaokakyo City, where the class had taken place that night. Indeed, the entire trip was very intense, but NY gurubhai were accepting of the challenges! It proceeded at such a rapid pace. There was no time to stop. There was no place to hide or escape, only time to come face-to-face. At the same time, we felt the sincerity of all the gurubhai in Kyoto all the time. The gurubhai in Kyoto also put a lot of time, energy and effort very freely and willingly into anything they could do to support the NY gurubhai. And the NY gurubhai knew that, because they felt it constantly and limitlessly from everyone. We were in a very condensed and serene, yet extremely powerful field… watched over by the Master. No words can express our gratitude, we can only bow down…
*
From that day on Ryan's demeanor noticeably changed. The great thing about Ryan is that once he understands, he understands. Renunciation comes naturally, and the power of attraction is no more. And starting the next day, he did not have any reactions to those things at all, as if he had never had them before.
(The journey continues… to Echo 45)