Monday Jan 21, 2019 NYC
BLESSINGS: Shri Mahayogi is in New York and the Programs begin!

GRATITUDE: Words of Welcome to the Master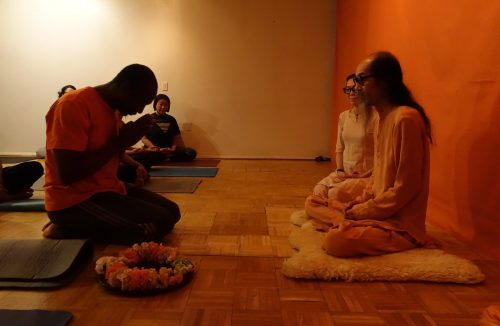 "Satguru Shri Mahayogi Paramahansa, the Great Teacher, the Great Guru,
 It is with utmost gratitude that we welcome you back to the New York sangha.
To have you here physically, to have you in our presence physically,
is a blessing to all of us in attendance.
 We have read of the great sages of old,
such as Buddha, Lord Krishna, Jesus,
Shri Ramakrishna, Vivekananda, and Lahiri Mahasaya.
We're inspired by their words and moved by how they lived.
We also understand the rarity of such sons of God.
 The soul can go through countless lifetimes, without ever encountering such an opportunity as this one—to be in the physical presence of an Awakened Master,
such as yourself.
It is through your light that you reveal to us our bondage and how we suffer.
And as the Buddha says,
you show us the way to end our suffering and awaken to our true Self.
Let us seize this precious opportunity to be guided by
the purity of your love and wisdom!"
•
Above are the words spoken by Aniruddha, as a representative of the sangha in New York, at the end of the first class, just after offering the mala (garland of flowers) to Shri Mahayogi. As his words express, we are extremely grateful that Shri Mahayogi has returned to New York and accepted yesterday to guide both the returning practitioners and the many new attendees alike through his offering of the Sadhana Program (Asana & Meditation class).
The first class was packed with many attendees and the strong concentration generated by the practitioners was heightened by the serene presence of Shri Mahayogi, and the space became filled with a strong and keen energy.
We would like to share the following anecdote of what Aniruddha experienced in the moment of offering the mala and words to Shri Mahayogi:
"Knowing it was my responsibility to perform the mala offering to Shri Mahayogi at the first class was an honor and a responsibility I took very seriously. I did not want to stumble over myself trying to remember what to say in this important event to Shri Mahayogi, so I repeatedly practiced the speech. During class in savasana, I recited the speech to myself and during meditation, all I was able to meditate on was the speech to Shri Mahayogi. It was time to walk down the aisle to present the mala to my Guru, and as I knelt in front of him, I became absorbed into his smile and almost forgot there was a room full of people behind me. As I began to speak, the words left my tongue effortlessly, and as I gazed into Shri Mahayogi's eyes I could feel the joy stirring up in my heart. I was joyful also because I was declaring to the whole audience, especially the newcomers, who this Being is that sits in front of them and how blessed we all are to be here. For myself, I see more and more how Shri Mahayogi is revealing the various bondages that cause me suffering and I look forward to being free from them under his guidance. "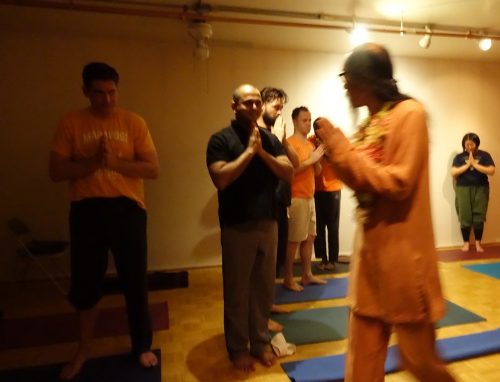 The Sunday Sadhana Program directed by Shri Mahayogi will be held from 3-5pm at Still Mind Zendo.
Register for the Sadhana Program through Eventbrite
http://mym2019.eventbrite.com
Satsangha will still be held Feb. 2nd & 23rd, 3:00-4:30pm. Location TBA.

Register for Satsangha through Eventbrite
http://ssmp2019.eventbrite.com
Don't miss these precious opportunities!!!