Sun March 8th, 2015 9:00 pm Manhattan, NYC
THE WORDS OF OUR GURUDEV: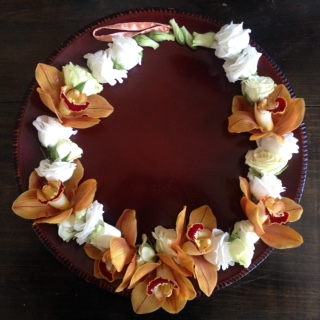 We are so honored to have this opportunity once again!!
This garland of flowers was offered to our Beloved Satguru Shri Mahayogi Paramahansa
at the end of the first class with him this Sunday.
After some silence, Shri Mahayogi then spoke:

 "Meditate everyday. Truth is in the depth of the heart.
The Truth that is God, exists all around and everywhere.
You are That!"
–Satguru Shri Mahayogi Paramahansa
"Debes meditar cada día. La Verdad está en lo profundo del corazón.
La Verdad, que es Dios, existe alrededor y en todas partes.
¡Eres Eso!"
-Satguru Shri Mahayogi Paramahansa
"Trebuie sa meditati in fiecare zi. Adevarul este in adancul inimii.
Adevarul care este Dumnezeu, exista in jurul vostru si peste tot.
Voi sunteti Acela!"
-Satguru Shri Mahayogi Paramahansa
"請每天冥想。真實就在於你內心深處。
真實就是所謂的神,存在於你的週遭與任何地方,無所不在。
你就是它!"
-真理上師 聖 大瑜伽士 至尊天鵞 
「毎日瞑想して下さい。真実は心の奥にあります。
神というその真実は、その周りにもどこにでもあります。
あなたはそれです!」
-サットグル・シュリー・マハーヨーギー・パラマハンサ
*
The attendees were from America, Puerto Rico, Mexico,
Jamaica, Romania, Serbia, Ukraine, Hong Kong and Japan!
This represents the uniqueness of New York, totally international.
We truly hope that one day Shri Mahayogi's words
will be translated into many different languages throughout the world.
It will come to pass!
OM TAT SAT, OM!