Sun Nov 19th, 2017 02:05 am, NYC
Editor's Note: Pranavadipa Volume 36
"The evidence of how much you have mastered Yoga appears during our daily lives."
– Satguru Shri Mahayogi Paramahansa
Each month, as the much awaited new issue of Pranavadipa arrives in our mailboxes, we have a new opportunity to receive fresh inspiration for our journey on the path of Yoga. This month (Vol. 36), between Satsangha and the Testimony, the theme of understanding and internalizing the teaching through actual practice arises again and again. In the Satsangha, Shri Mahayogi elaborates on the results of putting the teachings of Yoga into practice, expounding upon the subtleties that would be unknown to anyone who has not thoroughly experienced the Truth for themselves. To give a few examples, Shri Mahayogi breaks down the existence of the grace of God. He teaches about the subtleties of meditation, the way of breaking out of habits of the mind and of karma, and the truth of the ancient teaching coming from the Upanishad that says "Brahman is tapas. Realize Brahman through tapas." No matter the question, Shri Mahayogi answers each one with skillful detail that provides each practitioner, including those of us who are reading, with concrete tools for practice as well as the inspiration to actually implement them.
In this month's Testimony, we have the opportunity to glimpse how one disciple of Shri Mahayogi, Anandi (whose questions also appear in the Satsangha), uses the teachings of Shri Mahayogi as the tools and inspiration to transform her everyday life. We can feel her passion for Yoga and for sharing Yoga and Shri Mahayogi in the way she so sincerely shares her honest experience with others through any means possible, be it the grand opening of a café or a column in the local newspaper.
We hope that you will read her articles in this month's Volume of Pranavadipa. And in addition, we are pleased to invite you to read the following bonus article, which she unabashedly writes for the letterzine of a public service association detailing her own sincere process as she experiences the path of Yoga. The fervor generated from her own experience of Yoga is enough to spark the interest of anyone who reads it.
May we all catch her indomitable spirit and share our own conviction for the path of Yoga by bringing the teachings concretely into our day to day actions.
Testimony:
Article from the summer issue of Syoumei,
a letterzine of the Ehime Public Service Association of Construction's branch in Matsuyama      by Ms. Fukoue  2008
The other day when I heard a very studious university female student say, "I am so worn out, that no matter how much sleep I get, I don't seem to recover from this exhaustion," I was surprised to realize that I had forgotten what that felt like. Asana, or Yoga poses, are even more effective when you are tired. I empirically understood this only after I began to actually practice. When I suppress the 'sleepy urge' that draws me into falling right to sleep on my futon, and instead practice asana, my mind and my body become relaxed, and this leads me into a deeper sleep. The next morning, fatigue would be completely gone, and instead there would be a sense of fullness. By repeating this process, my confidence in Yoga has become stronger little by little, and now I feel that it is unshakeable. This university student said, "I don't have time to participate in Yoga Circle now," but my wish is that one day I will be able to share with her the true peace of mind that Yoga provides.
Through the continuous practice of Yoga, as the parts within the body that we may normally not feel become enhanced and sensitized, we can feel every cell of the body becoming vibrant. It is as if we are able to recharge our own energy, without depending on any modern technology. Also, because of posture and daily habits, everyone more or less has imbalances within the body, but Yoga will correct them.
Sorry to delve into personal matters, but about a year before I encountered Yoga at the Mahayogi Yoga Mission in Kyoto, I was suffering from severe TMJ (jaw arthritis). When I looked at a picture of my smile from back then, the right corner of my mouth was much higher than the left, and the jawbone was skewed. The reason for this was that after I had hurt my neck in a rear-end collision, I was reluctant to go to a dentist, and so neglected to go for the necessary dental treatment for about a year. During that time I ate only using teeth on my left side. Indeed, I didn't start Yoga for the purpose of curing TMJ arthritis, (so I wasn't concerned about it, nor did I relate this issue with my Yoga practice,) but even after doing asana it didn't easily improve, and it was even difficult to open my mouth. Regardless, with the fear of possibly having problems keeping my job, I just kept practicing asana. I don't remember for how long, but as I continued my discipline of practicing asana, and doing so earnestly every single day for some time, one day, I suddenly noticed that my jaw had become normal. It is true that if the jaw is skewed, then the neck, spine, and back are also skewed; therefore it was important to correct the entire body through practicing asana—however, since I have an optimistic and carefree personality, I only realized this once the condition had almost been healed. Of course, I was very grateful that my TMJ had been healed from its root cause, however this was simply something that was thrown in as an extra. Why? Because what I was seeking from Yoga had nothing to do with the body.
The reason that I became so eager and wanted so much to go to Kyoto to practice Yoga at the Mahayogi Yoga Mission there was because of the following words from an email sent by a senior disciple who had been practicing under the Master in Kyoto for some years, and who later became my teacher in class. I felt that there was some secret about the practice of asana in these words:
"Based on the premise that one practices every single day—there can be some differences depending on the individual—but if one practices this method of asana, one will transform mentally after about three months. You will be amazed by that transformation."
As I mentioned in the previous article from the spring issue,* on March 1, 2003,** I moved to Kyoto alone, into a house where senior disciples lived together, and there I learned the essence of Yoga through their daily lives. I felt that I suddenly gained a brother and sisters who were dependable and kind, so each day was fresh and happy, and I enjoyed it so much. They all cared about me and watched over my growth without being overbearing. Looking back, I see how their actions were filled with much consideration for me, I was too immature to notice it then, but now I am filled with gratitude for that.
* In the spring issue, she wrote about her encounter with Yoga, about the teaching she received from the initial meeting with Shri Mahayogi, and about the activities of Yoga Circle.
** This was two and half months after her initial meeting with Shri Mahayogi, when Shri Mahayogi visited Matsuyama where she lives.
I remember vividly the first time I participated in the Mission's Yoga class. When it comes to Yoga asana, in Matsuyama, I had taken "Power Yoga" classes where the body was constantly in motion. But in order to be able to correctly concentrate on this new style of Yoga that I was going to learn, I took my first class with the resolve to forget the style of Yoga that I had learned up to that point and to start from point zero.
What surprised me first was the atmosphere of the class. Through the use of indirect lighting, the class, which was held at night, was cared for in a way that made it easier to concentrate. Even though it was my first class, the people who came and the atmosphere there were very comforting, so it immediately relaxed my tensed mind. I'd heard beforehand that the form of each pose would most likely be familiar since I'd done some of them before, however the sense of concentration was completely different.
First of all, the poses were held over twice as long as what I was used to. However, since there is a supine resting pose between each asana, which is also an asana, I was able to relax during this resting pose. I was carefully instructed on how to breath, how to move the limbs as well as other important points about the poses that I should be aware of. It was refreshing to me to be told that, during the pose, if the eye gaze or the sense of concentration moves away, then prana, the energy (ki or chi), escapes. As I continued to practice, I gradually came to understand that, when practiced correctly, asana becomes deeper, and that to be able to, in the end, correctly meditate is the real and original purpose of asana. I was told the importance of breathing correctly during a completed pose, however in the beginning, I could not breathe quietly, and although it took me months, as I became familiar with the asana, I started to be able to concentrate on the breath, and later on I realized that my breathing had transformed to diaphragmatic breathing without taking notice of when it began. And the issue and frustration I had also had—that even though I understood intellectually that the asana should be practiced without the body being tensed up, and even though no matter how I tried I had not been able to actually translate this into the body—was resolved in time.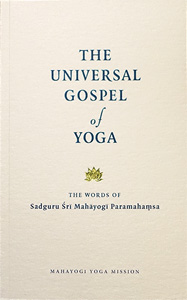 "The body and the mind are constantly susceptible to influence from the external world. Through practicing asana, pranayama, and meditation, breathing habits change. This affects every single cell throughout the entire body and provides stability to the body and mind. Though continuous training, prana is stored within the subtle body, healing the body and the mind so much so that it reduces the amount of sleep that one requires. These effects arise as a result of the purification of the normally damaged 72,000 nadi, or hollow canals in the body through which the prana flows. The principal nadi, the sushumna, which run through the spinal cord, is just as vital as the autonomic nervous system mentioned in Western medicine. Disciplining yourself every day by using the physical body, learning the sacred scriptures, and meditating, is called kriya yoga."
        —Satguru Shri Mahayogi Paramahamsa from The Universal Gospel of Yoga
Since I had come all the way to Kyoto in the first place, while I was in Kyoto I felt that I must absorb Yoga before returning back home—being so intent on this, I asked many questions to the Master. His answers are still a motivating factor for me to this day.
Fukoue: Since you taught me a very important teaching, I now feel that my father is a precious existence, and finally I have become able to be kind to him. However, right before coming here to Kyoto, in spite of myself, I got into a huff when he admonished me based on his own misunderstanding. I did not speak back to him, but how can I prevent myself from getting like that?
The Master seemed to be pleased and encouraged me by saying, "At least you've grown a little, since you didn't talk back." But then, he decisively said, "If you discipline yourself to practice asana, then you will become unshakeable." At that point, I said to myself— I want to become unshakeable—so with this desire as my single intention, I continued my discipline to practice asana.
Half a year later, I had to move back to Matsuyama. What I learned in Kyoto was how crucial the practice in daily life really is. And that was exactly what the Master taught me from the very beginning.
These are the words of the Master that I'd like to bear constantly in my heart. These words overlap with the humbleness of the senior disciples with whom I lived: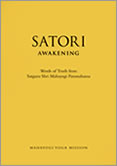 "Always think, speak, and act for the good of others. This is synonymous with the teaching, 'Love thy neighbor.' Truth is One. Without a word, it is conveyed, unfailingly, through silence. In coming into contact with various people in diverse situations, always act simply, solely filling your mind with what is best for the other person. Needless to say, in order to do so effortlessly, your daily practice and self-training are required."
                                       —Sadguru Shri Mahayogi Paramahamsa from SATORI
By always moving forth with humility, I wish to expand the circle of kindness and smiles that has been bestowed upon me by the Master and the senior disciples.
---