Monday Mar 22, 2021 NYC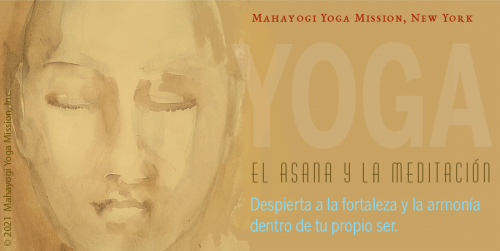 Announcement: MYM begins offering classes in Spanish
Introduction to
YOGA: ASANA AND MEDITATION (Online)
Saturday, March 27, 2021    11:00 am – 12:30 (EST)
ALL ARE WELCOME!
¡MYM ofrece clases en español por primera vez!
Introducción al
YOGA: EL ASANA Y LA MEDITACIÓN (en-línea)
Sábado, 27 de marzo 11:00 am – 12:30 pm (EST)
¡ BIENVENIDOS TODOS !
We're very pleased to introduce Mahayogi Yoga Mission's first Yoga class in Spanish. This is an introductory class, designed for people who have never practiced Yoga or have not yet practiced asana and meditation as it is taught by our Master, Satguru Shri Mahayogi Paramahansa.
Nos complace grandemente presentar la primera clase en español de Mahayogi Yoga Mission. Esta clase es una introducción, diseñada para personas que nunca han practicado el Yoga o para aquellos que aún no han practicado el asana o la meditación según las enseña nuestro Maestro, Satguru Shri Mahayogi Paramahansa.
In this class, there will be an introduction to what Yoga is, to the basic postures of asana (yogic postures) and to meditation.
Asana:
• Along with the help of a demonstrator, each asana is instructed verbally with care and detail. Specific adjustments or modifications are given to each practitioner accordingly.
Meditation:
• The basic practice of meditation (an introspective approach that guides the mind through meditation) is introduced, as well as the appropriate sitting positions for meditation.
Q & A:
• Time at the end for some conversation with the opportunity to clarify any questions and share practical and useful teachings of Yoga.
MORE INFORMATION AND REGISTRATION FOR SATURDAY, MARCH 27
Esta clase ofrecerá una introducción a lo que es el Yoga, a las posturas básicas del asana (posturas yóguicas) y a la meditación.
ASANA:
•   Se instruye mediante demostraciones de cada asana, junto con cuidadosas y detalladas indicaciones verbales. Se indican ajustes y modificaciones específicos a cada practicante.
MEDITACIÓN:
•  Se ofrece instrucción en la práctica básica de la meditación (usando un acercamiento introspectivo para guiar la mente durante la meditación), y se presentan las posturas sentadas apropiadas para la meditación.
PREGUNTAS Y RESPUESTAS (Q&A):
•  Al final de la clase, se ofrece tiempo para conversar, aclarar preguntas o compartir enseñanzas prácticas y útiles del Yoga.

MÁS INFORMACIÓN Y MATRICÚLA PARA EL SÁBADO, 27 DE MARZO
This past Sunday, March 21st, the first Asana and Meditation class in Spanish welcomed some attendees new to Yoga and also some with experience who were looking to deepen their practice. Though not physically together, the virtual medium allowed us to meet Spanish-speaking practitioners from Puerto Rico, France and Spain in a charming togetherness.
El pasado domingo, la primera clase de asana y meditación en español les dio la bienvenida a algunos participantes nuevos al Yoga y también a algunos con un poco de experiencia buscando profundizar su práctica. Pese a no estar físicamente juntos, el medio virtual nos permitió conocer a practicantes hispanoparlantes desde Puerto Rico, Francia y España en un conmovedor compartir.