Monday September 4, 2023 NYC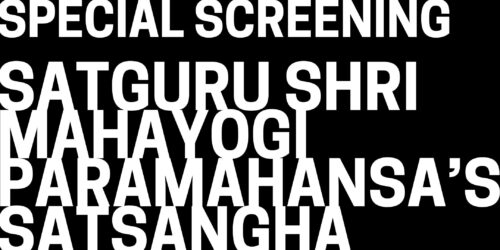 Announcement: SAVE THE DATE!!
—Special Screening in NYC—
Satguru Shri Mahayogi Paramahansa's Satsangha from Kyoto, 2016
Sat, Sept 23rd, 2023
First time special screening of recorded footage of Satsangha (Q&A) with the Enlightened Master of Yoga, Satguru Shri Mahayogi Paramahansa.
To sit near an Enlightened Master—since ancient times this has been one of the most revered and precious opportunities one can encounter, and for many years Satguru Shri Mahayogi Paramahansa, an Enlightened Master of Yoga, gathered closely with one small group of seekers at a time and quietly conveyed the teachings of Yoga, the teachings of the Truth.
Gathered in this intimate setting, the serene stillness of Shri Mahayogi's presence would unfold silently into every ounce of space, the incredible lightness of his form and his compassionate smile would shine brightly, and the unshakeable Truth that he spoke would begin to dispel and clear the confusions and doubts of the mind.
In such an atmosphere, Shri Mahayogi attended to everyone present, answering their questions with great care, and ever-directing, even through some of the most common matters of daily life, to the path that can lead straight to the realization of the Truth, that which is the essence of our true nature, that which is ever-free and untouched by sorrows.
Mahayogi Yoga Mission invites you to experience with us the incredible scene this rare footage captures.
The footage will be screened twice on the day of the event. The admission ticket is all inclusive and attendees are welcome to attend one or both screenings. There will be an intermission between screenings and some time reserved after the final screening. For attendees who would like, this time may be used for further learning about Shri Mahayogi, about the teachings of Yoga, and for discussing with practitioners who have been learning Yoga under the guidance of Shri Mahayogi.
When: Saturday, September 23rd, 2023
Time: 2:00pm – 5:30pm, Doors open at 1:30pm
Location: 9-03 44th Road, Unit 201, Long Island City, NY (Solar One Building)
Registration or RSVP is required at least 24 hours in advance:
· EARLY REGISTRATION (by Sept. 16) – Click here
· RSVP & PAY AT DOOR (at least 24 hours in advance) – Click here
Note: Tickets are non-transferrable.
For cancellation or changes, please contact MYM staff – Click here
Schedule:
1:30pm Doors open
2:00pm – 3:10pm First screening
3:10pm – 3:55pm Intermission
4:00pm Second screening
To make a financial contribution, visit our CONTRIBUTION PAGE.
Visit and share our WELCOME PAGE to join our online classes.