Friday May 18, 2018    NYC
Announcement:
SATGURU SHRI MAHAYOGI PARAMAHANSA TO VISIT NYC
Our hearts are brimming with joy
as we announce that
Satguru Shri Mahayogi Paramahansa will visit New York this summer 2018!!!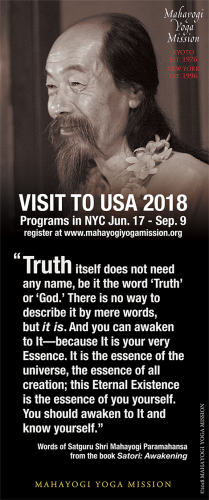 There is no opportunity more precious than to experience the teaching of Truth from a living Master. Shri Mahayogi graciously guides each and every seeker according to their individual need from his own direct experience of the Eternal Truth. From unveiling the innermost workings of the mind and subtlest realms of meditation to demystifying the concept of God and revealing the essence of all religions, Shri Mahayogi pours pure and compassion-filled teachings indiscriminately into the hearts of all.
This summer, learn, study and experience the universal teachings of the Truth for yourself!! Programs, including practice of Asana and Meditation directed by Shri Mahayogi (Sundays 7-9 pm), will begin June 17th and continue through September 9th.
Registration available Sunday May 20th online through Eventbrite or in class.
For inquiries and further information, please contact: info@mahayogiyogamission.org