Wednesday July 29, 2020 NYC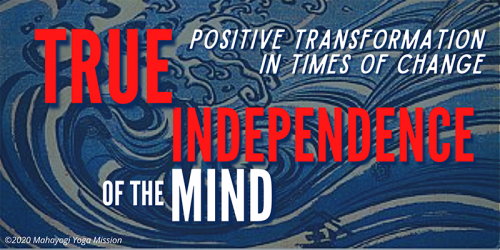 Announcement: First Online Program!
Positive Transformation in Times of Change:
TRUE INDEPENDENCE OF THE MIND
Friday, August 14th     7 – 8pm
In the midst of unexpected and changing circumstances, the key is to learn the nature of the mind and cultivate inner fortitude.
This online talk with Mahayogi Yoga Mission practitioners will be centered on the unwavering state of true Independence, which can be cultivated within each and every one of ourselves.
All are welcome to attend. No prior experience or knowledge of Yoga is necessary.
SPEAKERS: Aniruddha and Sadhya
Register HERE.
* Tickets will be available for purchase for up to 24 hours in advance.
* Please note that using Zoom is required for attending this program.
We will be happy to provide technical assistance to anyone who may need it.
Please reach out to info@mahayogiyogamission.org for any inquiries about this event.